Electromagnetic Properties of Materials
Introduction
Perform a standardized test ASTM
Today, many industries need to have a good understanding of the materials they work with to shorten the design, improvement and quality assurance cycle. Each material is a unique set of electrical properties that depends on its dielectric parameters. Accurate measurements of these properties can provide valuable information for engineers and scientists to correct mix of applied materials. Measuring materials dielectric provides design information for many applications. For example, cable isolator loss, or impedance of a dielectric substrate or resonator, can depend on the dielectric characteristics of the material. Technologies used in the microwave laboratory include a variety of equipment such as material holders, CMI®XAC-30 software for measuring dielectric characteristics, analyzer device with a frequency range of 50 MHz to 20 GHz. The holder holds the matter under test (MUT) for various measurement methods such as coaxial probe, parallel plates, waveguide / coaxial transmission lines and free space.
Electromagnetic Properties of Materials
Test Setup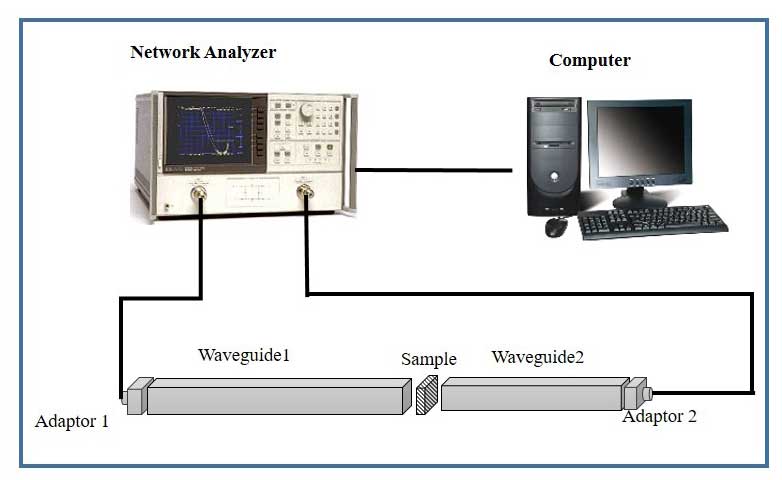 Test Setup Electromagnetic Properties of Materials Measurement
The measurements taken in this set are in waveguide method and according to ASTM-D5568 standard. Types of standard WR90 waveguides are used to measure material characteristics. The Rectangular Waveguide Technique is an example of the categorization of measurement techniques, which is called also the transmission line technique to achieve complex permittivity and permeability coefficient of the sample. In this technique, the sample is matched to the waveguide cross section and is filled to the same extent, and the recursive rate is measured over the sample. Transmission line measurement techniques are typically more accurate than single-port technique. This technique is suitable for measuring the electrical permittivity coefficient (relative and loss dielectric constant) and the complex relative magnetic permeability of a solid, isotropic, and non-gyromagnetic. This measurement is valid for a frequency range of 100 MHz to 20 GHz.
Test Specification
The laboratory has been able to measure the dielectric characteristics of different materials. The measurement technique according to D5568 is a two-port waveguide measuring method.
Testing samples should be long enough. (extent possible to a few thicknesses)

cutting of samples either manually or mechanically must be accurate and with no irregular cuts. (The presence of any irregular height in the size of the samples causes entrance of additional air (a material with different dielectric) on common edges of the sample with the waveguide and affects the results).

Samples should be very clean and free of contamination.

The physical dimensions of the samples are 10.16 mm ×22.86 mm.

It is better to have more than two samples from each sample in requested dimensions.

Depending on the sensitivity of the samples, each sample should be sent in a separate package.

Samples should be sent as smoothly as possible without bending.
Electromagnetic Properties of Materials Measurement
Ordering
×